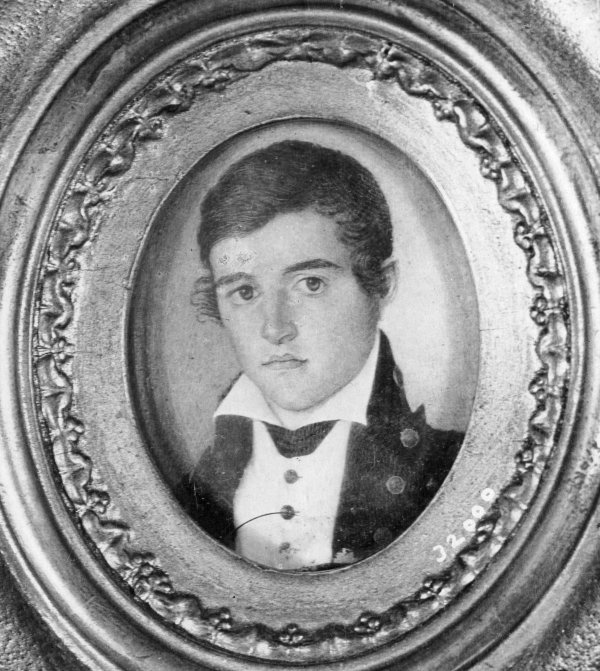 On February 8, 1814, 14-year-old George N. Hollins wrote a letter to his uncle Samuel Smith:
"Dear Uncle, I saw Commodore Perry and witnessed the honors paid him. I never was so pleased with the appearance of any person. Anxious to deserve similar honors and emulate his actions, I have taken the liberty to solicit your interest to procure me a midshipman's commission in the navy."

Commodore George Hollins later recalled the moment when Commodore Oliver Hazard Perry inspired him to pursue a career in the United States Navy:
"When I was about fourteen years old Perry's great victory on the lakes was the event of the day. Commodore Perry was visiting Baltimore and [was] entertained by many of the prominent citizens, besides having had a grand ball given in honor of his presence. He was entertained by my father [John Hollins], and during his visit in my father's house I was called in and introduced to the gallant hero. My father asked him what kind of a midshipman I would make. The commodore said, "He will make a first-rate one, Sir. I entered the navy just at his age." My father then said, "Go and ask your mother." The remember so well [that] when I asked her she burst into tears and begged me not to go to sea. She had painful associations with the idea of any of her children going to sea. But a few years before, her second son, William had been lost at sea, and her mother's hear shrank from trusting another one of her loved children to the treacherous element. She offered me a farm—anything—but I felt as if I were to be a man at once and my own master, so I persisted, and she finally gave a reluctant and tearful response."
George Nicholas Hollins continued to serve in the United States Navy  for decades and was based in Baltimore through the 1840s. When the Civil War began, Hollins (then captain of the USS Susquehanna in the Mediterranean) returned to New York and resigned his commission.
On June 22, 1861, George Hollins  joined the Confederate States Navy. Hollins soon received a promotion to commodore and took command of the Confederate naval forces at New Orleans (the so-called "Mosquito Fleet").  After the end of the Civil War, returned to Baltimore where he served as the "town crier in the city court" until his death in 1878.
Sources: McKee, Christopher. 1991. A Gentlemanly and Honorable Profession: The Creation of the U.S. Naval Officer Corps, 1794-1815. Naval Institute Press, p.109-110; "Autobiography of Commodore George Nicholas Hollins," Maryland Historical Magazine 34, no. 3 (September 1939).